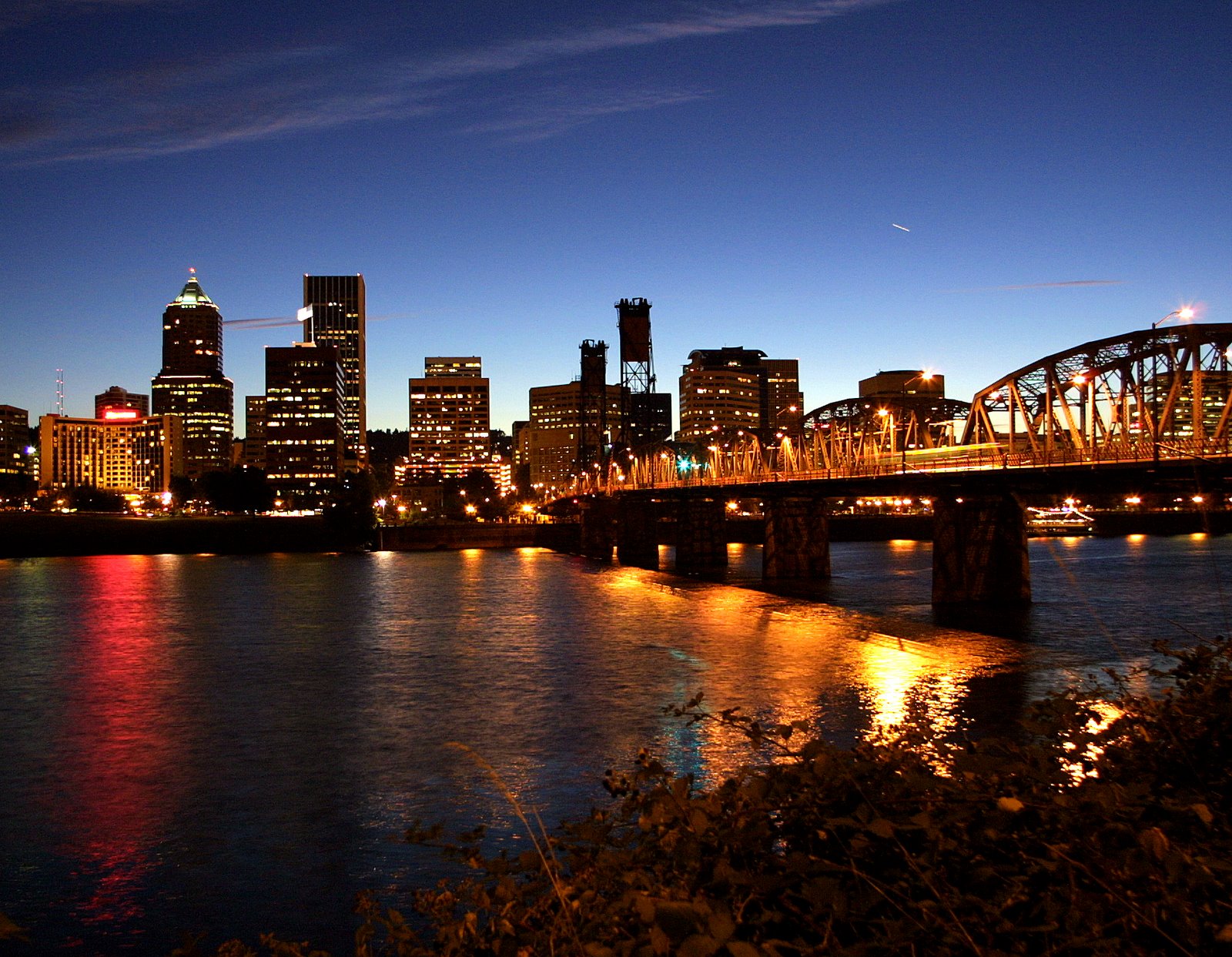 Blaze a trail to the innovative and pioneering city of Portland and you and yours will find a great deal in bloom in the 'City Of Roses'. They say the outstanding, open state of Oregon is for lovers and after visiting here your heart will be in a state akin to San Francisco and Tony Bennett. Take photographs, leave hearts. You just got to love it here. There's just something about this place. Perfect to the pavement only littered with feet. Clean and crisp, sidewalk to streetlight. It's a place like nowhere else in the United States Of America. Maybe not even Europe. It looks as modern as college towns and new cities come, but yet with a traditional, vintage vibe. Like a teenage to twenty something with a beard and cellphone rocking thrift shop clothes. No wonder they call this place the hipster capital. Sure for a U.S. city not many buildings scrape the sky, but magnificent mountains looking like the beginning of a Paramount movie do and unlike people getting up in the middle of the cinema, there's no workers office blocks boldly obscuring this perfect postcard picture in the portrait of this towns skyline. With the perfect mix of nature and mans nurture and old and new, there's lots to do for every age range that can get discount on these carriages across the city. So get on board. Or walk, through miles and malls of concrete and grass, as here in this small town feeling, but epically big place you can shop until you drop and get lost in the woods like Bon Iver until your jaw does the same in field and city mouse haunts combined. Lets face it, the PDX is an XXL fit. Rip City will never die.
You won't be stumped for stuff to do in Stumptown, whether you're coming here for a few days or the rest of your life. Even if you're checking into the welcome mat opening hotel district, or grabbing a cup of coffee or bite to eat at many of the self owned businesses' that make the individual identity of these establishments that so much representational of this city and country. From pillows to mints there's also a laundry list of places to call home during your stay, just like there is to wine and dine like only you can on vacation. This land and Port is also close to water (Willamette and Columbia rivers to be exact) like its Northwest neighbour via Greyhound, Seattle. So you just know seafood is on the menu...and this place is famous for it. Just like it is for fishing for a bargain from all the thrift shops of vintage clothes, comic-books and vinyl. Still one of the best establishments down the whole spine of the body of this town is the famous and storied Powell's Books, in the emerald heart of the perfect Pearl District, where you'll always find shining gems when you shop. A beautiful and hallmark place that claims to be the largest, new and used, independent bookstore in the world. One you need to bookmark in your itinerary. Love books? Then you'll be hard pressed to not find even the most rarest of scribes. About to crack open your first page turner? Then this is the perfect place to start. This isn't a bookstore...its a library. They don't need bricks for these shelving units that make up this mansion of stories that act like a museum to reading. They could build it with books. In a place built off the inspiration of iconic places of influence that are landmarks into themselves, what more hallmark a place than the incredible Voodoo Donuts? The only thing bigger than the treats themselves is the line for them out the door. This writers verdict on how they taste? I had only two days in this town, I have no idea how they taste...but I'm told...worth the wait. So line them up!
Like the opposition that comes to visit like tourists to this sports town, that's still EA in the game, even without featuring any franchise in the NFL, MLB and NHL holy trinity of American sports. Still even without any American football, baseball and ice hockey teams there's still a school of Ducks and Beavers in Oregon's college alumni. Twin soccer teams also take to the field in the Timbers and Thorns. Still, take a trip and terrific view through the city to the Moda Center and you can see more than just big concerts and shows in this amazing arena, no matter how good Taylor Swift or the Cirque Du Soleil is! You can't blaze a trail to Portland without watching the Portland Trail Blazers represent Rip City on a tear and basketball in the NBA. From legends like Bill Walton and Clyde Drexler to the unfortunate 'Jailblazer' days this Western Conference contending franchise has had its fair share of highlights and turn offs, but after the recent injury end to what could have been in Greg Oden and Brandon Roy, a new perfect partnership in LaMarcus Aldridge and Damian Lillard looks to take this team to new heights that would even make Michael Jordan shrug. Still you can find plenty of Rose Gardens all over this city of perfect parks, whimsical walks and formidable forests. Not to mention beautiful bridges built off the iron and stone of blue collar stars and stripes. All you have to do is take a compass and map for a picturesque place that the experience before your eyes will take the best pictures of. Back in town to keep your culture nurtured like nature, Old Town, Portland is full of museums, musical halls (to go alongside concert venues for a spot famous for hip bands like Everclear and The Decemberists) and theatres like the iconic 'Portland' one that serves as a 'Chicago Theatre' esque, Broadway billboard. Still nothing captures quite a symbolic picture, than the iconic White Deer Stag logo. So when you see those neon lights after that high hitting, highway drive up road to downtown that magically matches your entrances to most of America's biggest and best cities, you've made it. Welcome to the heart of Oregon in a city that beats with so much soul. Just remember to keep Portland weird. Keep Portland wonderful! TIM DAVID HARVEY.