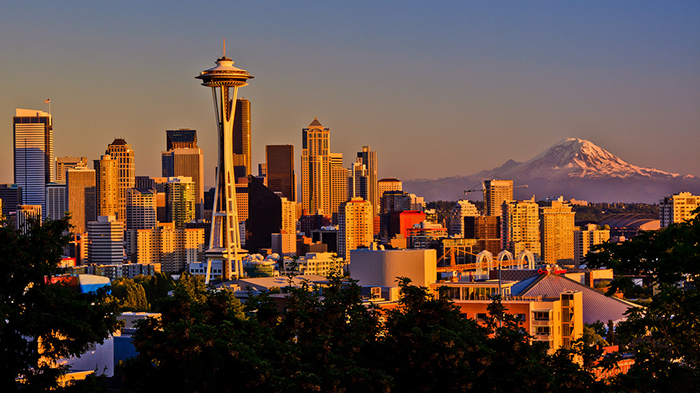 Tossed salads and scrambled eggs are calling again. Welcome to the home of 'Frasier' and music's Nirvana in Seattle, Washington. Rain or rain, the Oklahoma Thunder may have left this city, but you won't want to once you're here. From the tip of the Space-Needle to the bottom of the hilly streets, bumping like 'Bullitt' in a San Fran way this is a city like no other today. Living the American dream may take you to places like New York and Los Angeles. Or maybe Boston and Washington D.C. Philly and Chicago. Even Miami to Vegas. But you can't talk about the U.S.A.'s most famous cities and most popular tourist destinations without marking this town on the map of your itinerary. Emerald City is more than just a diamond in the rough. Its a pearl gem of a place that like its Portland, Northeast neighbour in Oregon is youthful, vibrant, timeless and relaxed all in the same time and state of mind. From the grunge to the grind, this town has birthed a lot. Now it should be expecting you. So like the heart monitor writing like, needle and monorail sketching, iconic intro to the classic comedy 'Frasier', its time to make that move like a psychiatrist from Boston. Quite stylish. Now the blues are really callin'. Confused? Well "baby I got you pegged"! Now what is a boy to do?
How about starting at the tippy top? Because not much beats Seattle's Space-Needle. Even if this writer keeps calling it the Sky-Needle as confusingly so as he he misnames Chicago's Willis Tower! Although we all know that will always be the Sears. Only Canada's CN Tower in Toronto can scale and top this needle point that like a Google map pointer is instantly iconic and recognisable to the city it calls home. Search for any picture of downtown Seattle and you're more than likely to see it like the stamp of a postcard, standing picture proudly, front and centre in the middle of Seattle's stunning skyline. Still taking an elevator up to the epic epicenter of this place and having a drink and bite to eat there will offer you the best view of the concrete canvas city that can be seen without this white toothpick holding its place in the enamel of this town. Still, going up all the other sky scrapings can afford you that view of the landmark pin point and its building to majestic mountain background too. But nothing threads through the city quite like the needle and with a two-a-day offer you can see how equally beautiful your next profile picture and phone background looks from dusk 'till dawn. Yet I can't recommend staying for some calm, above the city, tranquil hours here so you can witness the sun to electric light change from day to night yourselves. Take a look around from Space and there's a lot to take in from the sea to see. Even surrounding the needle are plenty of amusements and tourist stops and shops that can keep you entertained....and even educated. Just like that amalgamation of chrome and colours crumpled together. It kind of looks like a smashed up guitar.
It kind of is too. As this EMP museum and magnificent landmark was crafted and inspired by the smashed up Jimi Hendrix guitar that he sacrificed to the flames of purple haze. You can find the smaller, real one inside, along with some of his flyest on stage looks in the Hendrix in London exhibition, celebrating the man that grew up in Seattle's breakout and experience in England. These mementos take you even closer to the Emerald City son than the stunning statue of the rock God amongst his people in the city. If you thought that was good then just wait until you see all the mementos in the rock, heaven sent Nirvana exhibit for a band and town that gave us grunge music. From Kurt Cobain's 'Smells Like Teen Spirit' guitar and some hand-written notes this is the closest you'll get to the iconic frontman and the legendary, lasting legacy he left. The music doesn't stop there, with all sorts of exhibits and exhibitions. You can even try on some 'Thrift Shop' clothes from Sea's latest, proudest son of music, Macklemore and you don't have to have that many dollars in your pocket. Still not much beats the music room and the drum to string sounds you can interact with and create in this studio. The only thing topping all that in a museum where you can find everything from 'Lord Of The Rings' swords to 'Star Trek' blue Spock tunics in loving memory of Leonard Nimoy (LLAP, R.I.P.) is their new force of an exhibition. Yep its a Star Wars one, featuring all the costumes from all the episodes, from Anakin to Darth Vader himself. It doesn't get much closer to something iconic than this. You're going to love it! We know! Museums don't get cooler or better than this super charged EMP. The Jet City of flower and goodwill has more generous, great things taking off in bloom however.
Look down at that 'Jurassic Park' visitors centre looking Key Arena and you'll see where that iconic NBA franchise the Seattle Supersonics used to play before they got unfairly packaged and shipped to OKC. Now a real basketball team still plays here in the face of the Thunder in the WNBA champion Seattle Storm women's team, representing the green and white with legends like Lauren Jackson and Sue Bird. Still if you want to get a little closer to the Sonics than just a tourist store, terrific, throwback tee than you could always hit the Queen Anne district a few blocks round for the classic sports bar Oskar's Kitchen, owned by dunking, NBA 'Reignman' legend Shawn Kemp. Still from baseballs Mariners to soccer's Sounders there's still plenty of Seattle sport to see in stratospheric stadiums that welcome you on your hallmark, highway drive to this city like the open arms of fans at victory. Just like some football team you may have heard of called the Seahawks. We hear they're pretty good. Still as you take a magnificent Monorail ride back into the heart of the city that offers plenty of shops and hot spots for food and drink there's much more to see in the "gateway to Alaska" like the perfect bayside view of Pier 57 and all the beauty the Great Wheel had to offer in and out from day to night. Yet downtowns soul resides in all the individual stalls and sections of the iconic Public Market, from the red welcoming sign to the Pike Place Market that will have you dodging plaice like Niles Crane. This town of culture within a city of such has so much, all the way round to the landmark first ever Starbucks coffee house, traditional to the testament like writing your name on the side of a takeout cup. It seems like you can't walk a block in this world without seemingly finding a Starbucks on each corner...and to say that about this town is, well as obvious to the answer of whether you're able to find anything other than Seattle's Best Coffee here. This is where it all started in a city that's given us so much from the grinder to the groundbreaking. There's more than one type of emerald you can find in this city that's more Washington than D.C. I'm listening...and its calling you too. Goodnight Seattle, we love you! TIM DAVID HARVEY.